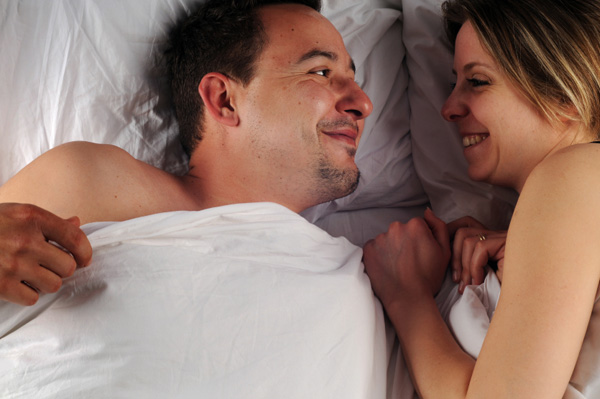 Though you may have more diapers than diamonds, more early mornings than date nights, the thing to remember is that your world is not only about your kids. Put your partner (and romance) on the front burner and jumpstart your marriage with these 20 tips.
You're not neglecting your kids if you put your marriage first. "It's a myth that the more attention we give our kids, the better they'll turn out," says David Code, family coach and author of To Raise Happy Kids, Put Your Marriage First. "We seem to be marrying our kids instead of our spouses because we find it easier to be with our kids than our partners," Code says. But putting your spouse first will create a trio of positive outcomes – your marriage will improve, your children won't suffer from over-parenting and your kids will learn positive relationship skills.
The Power of Romance
1. Get personal. "One Valentine's Day, I bought an unusual jar and hand-painted it," says Charles Orlando, author of The Problem with Women… is Men. He spent two weeks writing "1,000 reasons why I love her" on slips of paper. "That jar sits on our mantle. She regards it as the best gift she's ever received."
2. Make small gestures. "Put reminders in your personal calendar to periodically surprise your spouse with small gifts or activities to let them know you're thinking of them," say Paul and Debbie Lamb, authors of Be a Better Partner: A Handbook for Couples. But remember, just because you'd appreciate a certain gesture, that doesn't mean your spouse would want the same. "Know what your partner really likes and do something he or she thinks is special," says psychotherapist Eddie Reece.
3. Take a "snow day." Or a sunny day. Or a rainy day. "Play butler, maid or servant to your partner," suggests Reece. "Take care of items on their to-do list while they have breakfast in bed. If there is a chore that is traditionally theirs, do that for them."
Value rituals… and spontaneity
4. Do something unexpected. "Show up at your significant other's work for lunch. Give a full-body massage after the kids go to sleep. Write a note on a Post-It and leave it on the mirror," suggests Orlando. "Get out of the sweats and wear something sexy," says Dana Hilmer, author of Blindsided by a Diaper and founder of LifestyleMom.com. "Surprise each other once in a while."
5. Maintain a family calendar. "Make sure your obligations are organized and in sync with each other," says Michael Batshaw, psychotherapist and author of 51 Things You Should Know Before Getting Engaged. "A couple with new additions needs to set aside family time, alone time and couple time. This creates boundaries as well as a sense of unity."
6. Actually schedule time together. "You schedule everything else that's important, why not time for your beloved?" says Reece. "Time alone together was vital when you were dating. It's just as vital now that you're married."
Make sex a priority
7. Adjust your mindset. "My female clients often view sex as, 'Yet another thing I have to do for someone else,'" says Elizabeth Lombardo, psychologist and author of A Happy You: Your Ultimate Prescription for Happiness. "Sex is for both of you. It is a great way to reduce stress, feel closer to each other and even get a good night's sleep (which we all need)." Remember, love takes effort, it's not "work." Says Orlando, "Work is that thing you do to earn cash. Effort is what you put in to the things that hold your passion."
8. Create intimate moments. "Intimacy is the art of making your partner feel understood and accepted," says Tina Tessina, psychotherapist and author of Money, Sex and Kids: Stop Fighting About the Three Things That Can Ruin Your Marriage. "When this feeling is created, barriers fall." A gentle touch, eye contact or a quick hug can create an intimate, loving atmosphere in an instant, especially when times are hard. "This is when a couple needs private connection the most," says Batshaw. "Even if you're not in the mood, make an effort to share intimate moments a few times a week."
9. Try hotel sex. Orlando says, "Date night is a good attempt at rekindling things. But after working all week, diapers and/or homework assistance, it might not be feasible to downshift over the course of a couple of hours at dinner. Better to get a trusted sitter and take a full night to find passion."
Adjust your perspective
10. Never stop courting each other. "Write notes, send texts, cook together, compliment each other, do the things you did before kids," says life coach Erin Baebler of Magnolia Workshop. "Seduce each other. Make a fuss over your partner the way you used to," says Reece.
11. Wear rose-colored glasses. "So often we focus on what our spouse is not doing or is doing wrong, which causes resentment and anger. Focus on what he is doing right and appreciate it. Stop 'shoulding' each other," says Lombardo. Gratitude will make you both happier than criticism or judgment.
12. Stay on the same team. "Form a partnership where both parties feel respected, cared about and needed," says Tessina. "Hopefully both parents will be involved in child care, which keeps the burden from being too great on one parent. If both contribute equally, each should have one night off while the other partner watches the child. This time by yourself will refresh you for child care and the relationship."
Rely on communication
13. Talk it out. "Regardless of how long you've been married, he cannot read your mind. Don't expect him to," says Lombardo. "It may be inconceivable that he doesn't notice how filthy the kitchen is, but there is research that shows men's brains are not as attuned to details like this." Instead of nagging him, "Ask him to put the dishes in the dishwasher or fold the clothes. He'll appreciate you being assertive and not having to figure out why you are upset."
14. Solve problems. "Talk frequently and honestly to each other about your frustrations, sex, anger, disappointment, appreciation of each other, everything," says Tessina. "Don't get stuck on who's right or wrong – focus on what will solve the problem." Most of all, have a sense of humor and give each other the benefit of the doubt. "Try to end each day with a good, honest 10-minute conversation about each other's interests and concerns – logistics and to-do lists not welcome!" says Hilmer.
15. Reminisce. "Review your meeting, courtship, wedding and early marriage often. Remembering what drew you together helps you stay crazy-in-love," says Lois Tschetter Hjelmstad, author of This Path We Share: Reflecting on 60 Years of Marriage. Display wedding and dating pictures prominently throughout the house, add the Lambs. "The tendency for most couples is to reduce these with pictures of kids and family – the two are not mutually exclusive!"
Date night, date night, date night!
16. Take time off from parenting. Find and regularly use a good babysitter, says relationship therapist Kimberly Leatherdale. "Too many couples spend the first years of their kids' lives forgetting how to be a couple instead of just parents." Maintain your individual identity by taking time for yourself and each other. "Swap babysitting with another couple if you need to," says Lombardo. Reciprocate, of course, but realize that you can create more couple time for yourself by networking with other families and sharing duties, says Tessina.
17. Have fun! Do fun and fulfilling things together, says Lombardo. "Take a wine-tasting or dance class, read a book together or volunteer for a cause about which you both feel passionate." Not sure where to go for your adult playdate? Hit a comedy club. "Laughter is a great aphrodisiac!" says Hilmer. And, Hjelmstad says, make sure you spend time making out!
18. Maintain the adult bond. "It's important for each partner to maintain balance between their three roles: themselves as individuals, as partners who comprise a couple and as parents," says Renee Haas, marriage and family therapist. "Committing to having a weekly date night without the kids can go a long way toward maintaining the sense of connection between the adults." Pick a place that allows for plenty of conversation, and nix any talk about the kiddos.
Count your blessings
19. Create and celebrate. Life isn't on hold because you have children. "Create plans together to make your dreams come true. Progress consistently and tangibly toward that goal," says Hilmer. Create traditions too, whether they're daily or annual – the idea is to look forward to them together as a couple.
20. Live in the moment. "Enjoy this stage of your life together. Don't try to plug the old you into your new life," says Hilmer. "Your priorities and life are different. Embrace the beauty and richness that a family brings with all of its lumps, bumps and imperfections. Steal those moments both as a couple and as a family. Savor them."
_______________
This article was originally posted in www.SheKnows.com.